Mr. LEON E. BETHEL, LLB, (Hons.), LEC, AA
Senior Assistant Commissioner of Police

leon.bethel@rbpf.bs
---
Leon Eddison Bethell was born at New Providence Bahamas to the parents of Enamae Wright and Bruce Bethell. He later relocated to South Andros, Bahamas where he obtained his early education at the High Rock, All Age School in the Bluff South Andros and his secondary education at the South Andros Secondary High School, Kemp's Bay.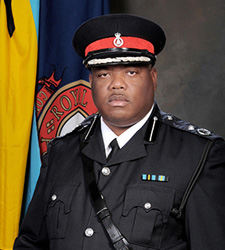 Having completed his secondary education, he returned to New Providence on 3rd January, 1978 and entered the Police Training College as a Recruit.
Since his enlistment, Assistant Commissioner Bethell has served in a number of areas throughout the force which include the Central Detective Unit, the Central and Southern Divisions in New Providence and the Eight Mile Rock and Freeport Divisions, Grand Bahama District.
In 1988 ACP Bethel along with a small team of officers formed the first Crime Scene Investigation Unit in the Royal Bahamas Police Force to specialize in identifying, processing, and retrieving trace and physical evidence from crime scenes.
In 2000, he was one of the first Inspector of Police to be appointed as Crime Manager during the devolution process of the Force.
On 18th November, 2007, he was appointed as Officer in Charge of Homicide Section, Central Detective Unit (CDU).
On 11th January, 2010, he was appointed as the Officer in charge of the Central Detective Unit (CDU).
On 30th May, 2011, he was transferred to the Central Division as the Officer in Charge
ACP Bethel has successfully completed a number of professional courses locally, regionally and internationally, in Criminal Investigation, Crime Scene Investigation and Management.
He is a graduate of the Metropolitan Police Institute, Miami Fl, where he successfully completed a series of crime scene investigation training courses and Certification as a Crime Scene Specialist.
He is a graduate of Georgia Public Safety Institute, Forsythe Georgia where he obtained training as a Blood Spatter Analysis.
He is a graduate of West Yorkshire Police Training School, Wakefield England where he obtained training and Certification as a Criminal Investigator.
He is a graduate of the International Commanders' Programme of the International Academy, Bramshill England, where he obtained an Executive Diploma in Management.    
ACP Bethel is a graduate of the University of the West Indies (class of 2004) where he received his Bachelor's of Law Degree with Honors. In 2006, he graduated from the Eugene Dupuch Law School with a Legal Education Certificate and during the same year was admitted to the Bahamas Bar as Consul and Attorney at Law. 
ACP Bethell is the recipient of a number of Awards and Commendations including the Royal Bahamas Police Force Medals for Meritorious Service, Long Service and Good Conduct.
He is married to Vernae Hinsey Bethell, and they are the proud parents of two (2) children.
---
Mr. Leon Bethel
Senior Assistant Commissioner of Police
Crime Management
Police Headquarters
leon.bethel@rbpf.bs