Solemn Ceremony Held for Fallen Officers of the Force



Posted on January 4, 2018

|

by RBPF Public Affairs and Communications Office
---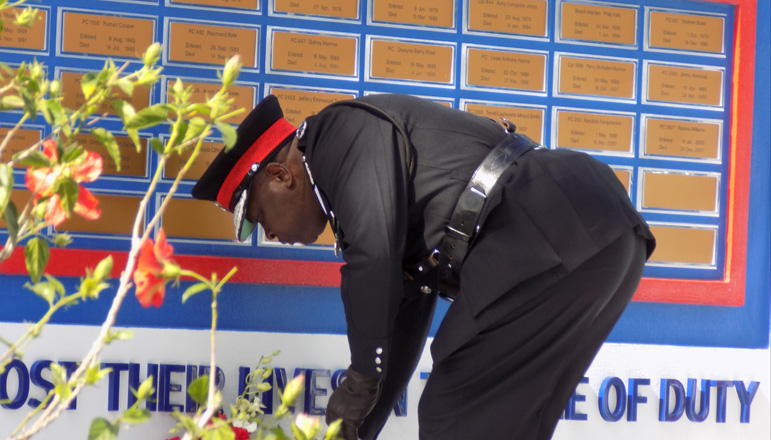 In loving memory of police officers who have died in the line of duty, a solemn ceremony was held at Police Headquarters at the Garden of Remembrance to pay tribute to twenty-one (22) police officers on Sunday 7th January, 2018.

In attendance were police officers throughout the Force who reflected and remembered their colleagues who had given their lives serving the Royal Bahamas Police Force.

Laying the wreaths at the garden were Commissioner of Police Anthony Ferguson, the police dependants trust, along with relatives of the fallen officers inclusive of wives and children.

Leading up to the ceremony, the entire garden have been newly enhanced with a plants, picket fences and a brightly modernized memorial wall.

Father Stephen Davis, Force Chaplain and Education Officer presided over the ceremony.
---
SEE RECENT NEWS
- Former NBA Star and Actor Rick Fox Pays Courtesy Call on Commissioner of Police - Police Participate in Defensive Tactics Training - Staniel Cay Police Hosts Evening of Student Activities - NCPO Conduct Walk-About at Golden Gates Shopping Centre - Police Conduct Joint Walk-About in Pinewood