Working Professionals Encouraged To Study Online
Posted on February 16, 2017
by
RBPF Public Affairs and Communications Office
---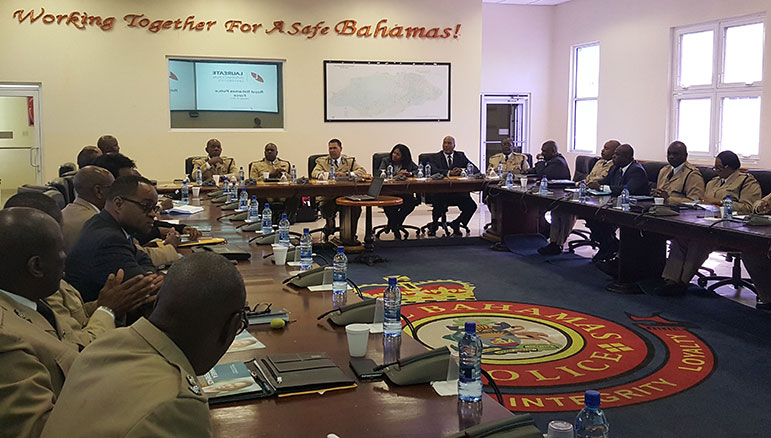 Commissioner Ellison Greenslade invited Kaydian Boothe-Matthews and Jesse Lee, PhD Representatives of Laureate Universities to Police Headquarters on Wednesday 15th February, 2017 to speak with officers of the RBPF.

In attendance were the Senior Executive Leadership Team and Gazetted Officers.

Laureate Online Education is one of the leading international online education; it is a suite of Universities inclusive of Walden University and Liverpool, among others. Walden University was founded in 1970 and has over 1,000,000 students worldwide and 75 institutions offering Certificate, Undergraduate, Graduate and Doctoral Degree programs in Architecture, Business, Education and Engineering.

Walden Online University prides itself on Competency Learning and lower tuition cost to earn a Degree. Additionally, it offers programs which allows working professionals to earn a degree at their own pace. Finally, Walden is accredited by the Higher Learning Commission.

Kaydian Boothe-Matthews presented a wide range of partnership offerings namely:


25% reduction in tuition costs on over 80 programs to address educational needs of the entire force;

In depth analysis of potential academic partnership;

Quarterly check-In to measure outcomes and needs assessment;

Access to Doctoral Faculty to support education;

Customize and On-line education at your own pace;

RBPF specific marketing and communication plan.


Commissioner Greenslade endorsed the online-learning for ALL police officers and encouraged each officer in attendance to enhance their academic qualifications which will benefit the strategic planning and overall operations of the organization as well as officers' personal disposition in future years.

If you are interested, here are a few questions that you may need answered.

How to Get Started?
Complete an Information Card. Same was provided during the meeting.

What is the starting cost for a Degree?
Starting costs vary depending on your degree program. However, the payment plan is flexible; you can start with as little money as you can afford. There is no lump sum payment required to get started.

Visit https://www.waldenu.edu for more information.

---
SEE RECENT NEWS