Full Military Funeral Service for the Late Corporal #676 Godfrey Moxey (Retired)
Posted on December 7, 2017
by
RBPF Public Affairs and Communications Office
---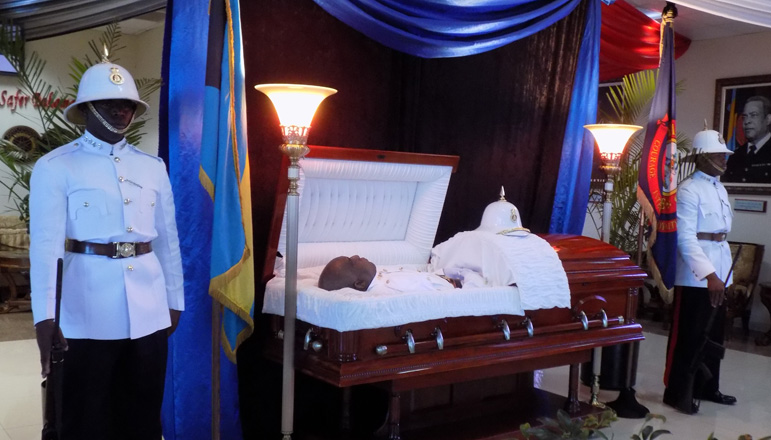 A Full Military Funeral Service will be held for the late Godfrey Rudolph Moxey; Corporal 676 (Retired) at 11:00am on Friday 8th December, 2017. at the Hillview Seventh-Day Adventist Church, Tonique Darling Williams Highway.

Pastor Basil Sturrup will conduct the service assisted by Pastor Melvin Lewis and Father Stephen Davies, Police Force Chaplain.

Interment will follow at the Woodlawn Memorial Gardens Mausoleums, Woodlawn Way, off Soldier Road.

Godfrey Rudolph Moxey enlisted as a recruit constable in the Bahamas Police Force now the Royal Bahamas Police Force on the 9th May, 1969 at the Police Depot Training School, East Street.

He was assigned the Number 676. After graduating from the Training School he was posted at the following Divisions:



Southern Division 24th Feb 1970



Mobile Division 29 Nov 1974


Internal Security Division 4th Aug 1989


Prosecution Division 1st Apr 1994


Police Headquarters 8th Oct 1984 until his retirement on 10th November 2005.


On 1st July 1983 Moxey was promoted to Corporal.

Corporal Moxey was a hard working, loyal and pleasant officer who was easy to get along with. He was knowledge about his job and did his best to impart it to his junior in rank. He will be missed by his wife, children, family, friends and colleagues, may his soul rest in peace.

On Thursday, 7 th December 2017 at 8:30 am, the body of the late Godfrey Rudolph Moxey will repose in the foyer for viewing by officials, senior, junior officers and the public.
---
SEE RECENT NEWS