Commissioner Anthony Ferguson Attends ACCP Inter-Sessional Meeting in Miami, Florida
Posted on December 6, 2017
by
RBPF Public Affairs and Communications Office
---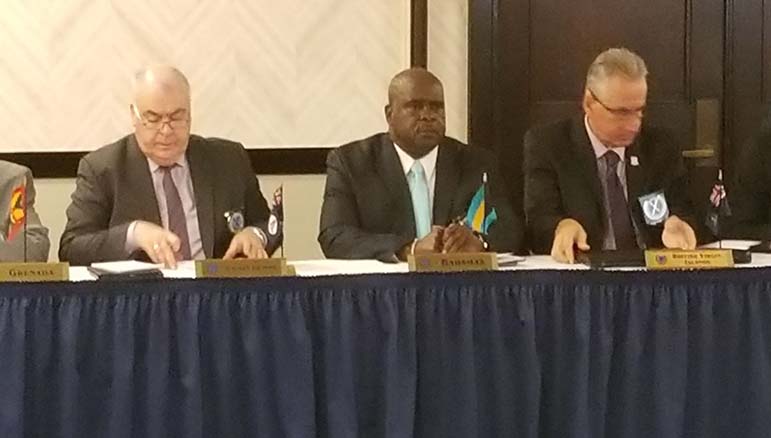 Commissioner of Police, Mr. Anthony Ferguson is out of the country attending the Association of Caribbean Commissioners of Police (ACCP). Inter-Sessional Meeting in Miami Florida from November 6-8, 2017.

The (ACCP) Conference was established in 1987 and is focused on regional cooperation in the fight against criminal activities such as narcotics, terrorism, and organized crime. Further, it contributes to the development of law enforcement in the region and the enhancement of best practices in policing.

Additional focus is directed toward enhancing the professional and technical skills of police officers, engaging with regional partners to share common services such as training, forensic analysis, and research, and influencing the development of laws to advance the policing throughout the region.

Member countries include: Anguilla, Antigua, Aruba, Bahamas, Barbados, Belize, Bermuda, British Virgin Islands, Curacao, Cayman Islands, Dominica, French Antilles, Grenada, Guyana, Jamaica, Montserrat, St. Kitts, St. Lucia, St. Marteen, St. Vincent, Suriname, Trinidad, Turks & Caicos, and United States Virgin Islands.

During the time that Commissioner Ferguson is out of office Deputy Commissioner Emrick Seymour is Commissioner, Acting and Sr. Assistant Commissioner Stephen Dean will act as Deputy Commissioner.

---
SEE RECENT NEWS