Police Conducts Illegal Firearm Training Session for New Custom Officer Recruits
Posted on January 23, 2017
by
RBPF Public Affairs and Communications Office
---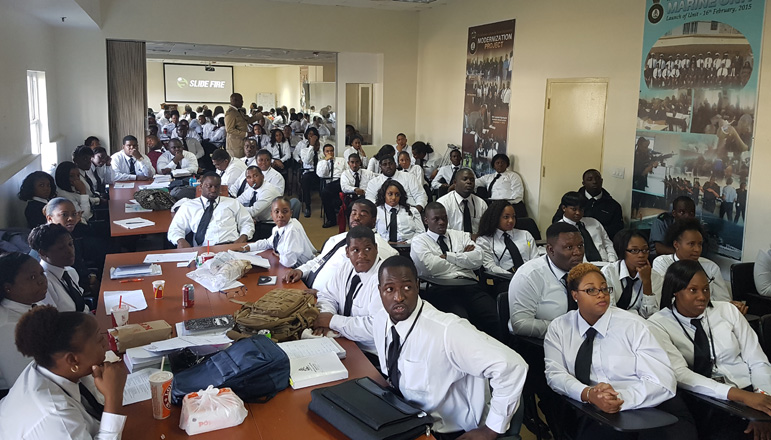 In keeping with the Commissioners 2017 Policing Priorities, Priority One highlights that we work closely with law enforcement agencies including Bahamas Customs, Bahamas Immigration, Bahamas Department of Corrections, The Royal Bahamas Defence Force,. Airport Authority and The Road Traffic Department in the Prevention and Detection of Crime; Chief Superintendent Kendal A. Strachan, of the Firearms Tracing & Investigations Unit, addressed the One Hundred & Fourteen recruits of the Bahamas Customs Department, along with two officers of the Royal Bahamas Defence Force, while at the Customs Department, regarding the flow of illegal contrabands into and through the Bahamas.

Chief Superintendent Strachan, reminded to officers that along with the duties to assess and collect government tariffs on goods imported into the Commonwealth of the Bahamas, it is incumbent that as gate keepers of the Country, they have a direct responsibility to examine goods to determine if there is contained contrabands, more specifically illegal Firearms and or Ammunition. Throughout the presentation, the officers were provided with examples of missteps which resulted in the introduction of weapons on our streets. The officers were reminded of their oath to office and failure on any of their part individually or collectively will continue to have adverse effects for our country.

Finally, as they drew near to completing their training, additional focus will be given by the Firearms Tracing & Investigations Unit, in ensuring that these officers are properly equipped to identify anomalies in items shipped and prolific offenders who seek to uses Shipping Companies and Couriers to facilitates their illegal trade. In closing, Mr. Charles Turner Customs Comptroller, personally thanked Chief Superintendent Strachan for partnering with his department in the fight against illegal firearms entering the Bahamas.

---
SEE RECENT NEWS