Long Island Residents Celebrate 44th Annual Independence
Posted on July 11, 2017
by
RBPF Public Affairs and Communications Office
---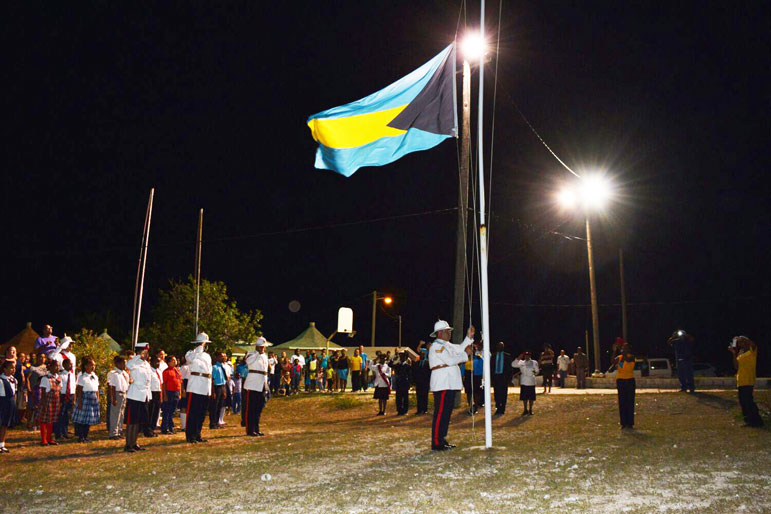 The cultural site at Salt Pond, Central Long Island came alive on Sunday 9th July 2017 as the industrious and resilient residents of Long Island celebrated the Bahamas' 44th Annual Independence Celebration under the theme "Towards the Rising Sun: One God, One People, One Bahamas".

During the evening, spectators were treated to a cultural and ecumenical show along with music and dance.

The speaker for the evening was Father Richard Wood, Rector of St. Peter's Anglican Parish, North Long Island District. He told those in attendance that to achieve full independence we must be selfless, united and free from biases and prejudice; he encouraged the audience to work together toward these goals under One God, as One People, for One Bahamas!

The evening concluded with the parade and drill performance conducted by officers of the Royal Bahamas Police Force, who were accompanied by seventeen students from all public primary and high Schools throughout the island.

The inclusion of the students by the Police on this momentous occasion,demonstrates yet again their vital role in the success and future of the country.

Kudos goes out to all students, parents, teachers and staff of the seven schools within the District.

In attendance were Member of Parliament the Hon. Adrian Gibson, Island Administrator Ms. Tereece Bootle-Bethel, Deputy Chief Councillor Kendrick Capron, ASP. Warren Rodgers; OIC Long Island Division, other government heads of department, members of the clergy, business persons, and a large sector of residents and visitors from communities throughout the island.
It was a beautiful, scenic, peaceful, and fun filled night in Long Island.
---
SEE RECENT NEWS