Full Military Funeral Service for the late Allen A. McPhee, Sergeant 141 (Retired)
Posted on May 31, 2017
by
RBPF Public Affairs and Communications Office
---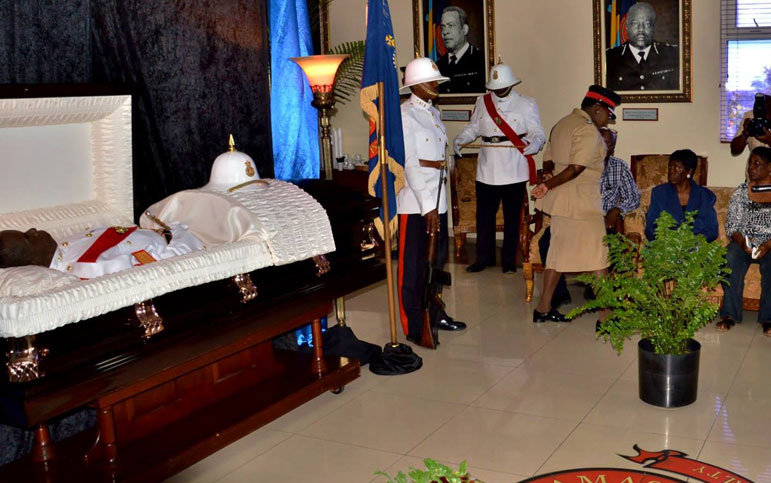 Full Military Funeral Service will be held for the late Allen A. McPhee, Sergeant 141 (Retired) at 11:00am on Thursday, 1 st June, 2017 at Zion Baptist Church, East and Shirley Streets.

The service will be conducted by Reverend T. G. Morrison assisted by Father Stephen Davies, Police Force Chaplain.

Funeral arrangements are being handled by Restview Memorial and Crematorium, Soldier and Robinson Roads. Interment will follow at the Woodlawn Memorial Gardens Cemetery, Woodlawn Way off Soldier Road north.

The late Allen A. McPhee joined the Police Force on the 17th April 1959 when he enlisted as a recruit constable at the Police Training School, East Street.

After graduating from the Training School he was posted at the following Divisions:


Special Company 19th October 1959


Southern Division 1 st June 1969


Special Company 18th June 1960


Traffic Division 26th February 1962


Exuma Division 11th October 1967


Traffic Division 21st June 1974 3


Southern Division 1 st August 1980 until his retirement on 12th Jul 1984.


On 4th April 1977 Sergeant McPhee was awarded the Good Conduct and Efficiency Badge, he also received the following promotions:


Lance Corporal 14th June 1964


Corporal 1 st July 1968


Sergeant 1 st January 1979


Sergeant McPhee was described as a person who was able to inspire junior officers to perform to the best of their abilities. He was a quiet, energetic, hard working and sociable officer who was of a loving nature. He will be missed by his family, friends and colleagues. May his soul rest in peace.

On Wednesday, 31st May 2017 at 8:00 am, the body of the late Allen McPhee will lie in the foyer of the Paul Farquharson Conference Center, Police Headquarters for viewing by officials, senior and junior officers and the public.

---
SEE RECENT NEWS