Full Military Funeral Service for the late Constable #6 Clifford Woods (Ret)
Posted on May 17, 2017
by
RBPF Public Affairs and Communications Office
---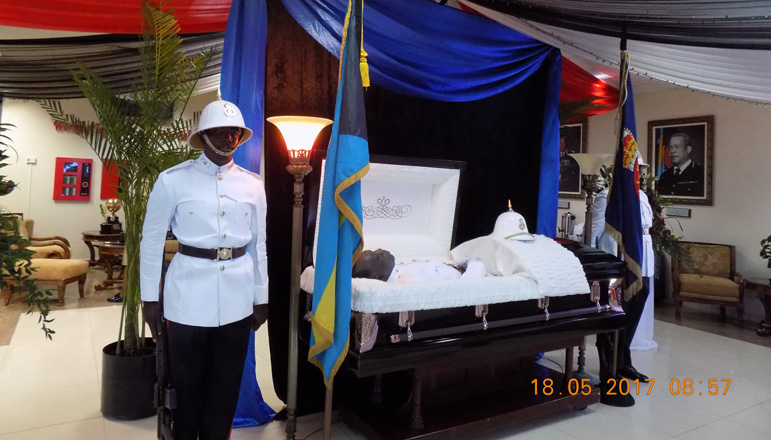 Full Military Funeral Service will be held for the late Clifford Henry Woods Constable 6 (Retired) at 11:00am on Friday, 19th May 2017, at the Foresight Baptist Church, Taylor Street, Nassau Village.

The service will be conducted by Pastor Charles Culmer he will be assisted by Father Stephen Davies, Police Force Chaplain and other members of the Clergy.

Funeral arrangements are being handled by Restview Memorial Mortuary & Crematorium, Soldier & Robinson Roads. Interment will follow at the Lakeview Cemetery, John F. Kennedy Drive and Gladstone Road.

The late Clifford Henry Woods career as a police officer began on 2nd January 1975 when he enlisted as a recruit constable at the Police Training College, Thompson Blvd, Oakes Field and was assigned the number (6) Six.

After completing his training at the Police College he graduated from the Police Training College and was posted at the following Divisions:


Mobile Division 10th October 1975


Central Division 31st January 1977


Western Division 25th February 1977


Abaco Division 1st November 1979


Central Division 30th November 1984


Southern Division 8th August 1984


Airport Division 1st November 1991


Constable Woods was the recipient of many local courses at the Police Training College. On the 31 December 2009, Constable Clifford Henry Woods after serving Thirty Five years (35yrs) of dedicated service on the Police Force retired from active duty.

Constable Woods' remain will repose in the Foyer of the Paul Farquharson Conference Centre, Police Headquarters on Thursday, 18th May 2017 from 9:00am until 6:00pm. for viewing by Officials, Senior and Junior Officers.

He will be missed by his family, friends and colleagues, may his soul rest in peace.



---
SEE RECENT NEWS