Police Celebrate the Life of the Late Sergeant #102 Charles Greenslade
Posted on April 28, 2017
by
RBPF Public Affairs and Communications Office
---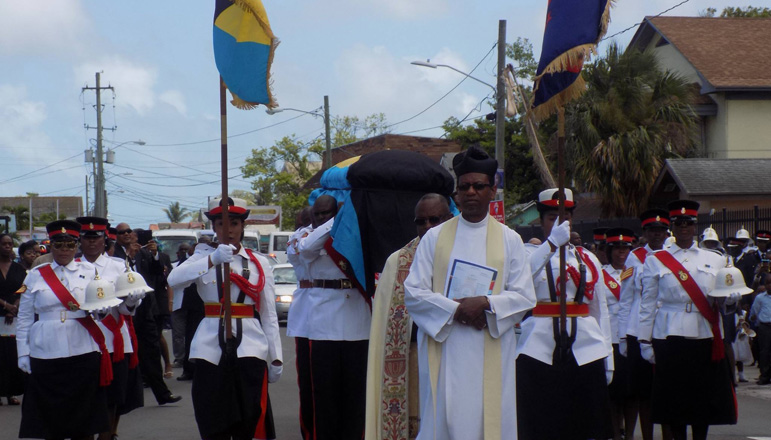 A Full Military Funeral Service for the late Sergeant #102 Charles Greenslade was held today at Saint Barnabas Anglican Church, Wulff and Baillou Hill Roads.

Officiating was Father Dwight Rolle assisted by Father Stephen Davies, Force Chaplain and other Ministers of the Gospel.

The late Charles Wayne Greenslade began his career as a Police Officer on the 24th August 1984 when he enlisted as a recruit constable at the Police Training College, Oakes Field. He received 16 weeks of basic recruit training and 6 weeks of specialized firefighting training.

At the time of his passing, he was attached to the Central Detective Unit of the Force.

In attendance was Minister of National Security the Hon. Dr. Bernard J. Nottage, Junior Minister of State for National Security the Hon. Keith Bell, Commissioner of Police Retired Reginald Ferguson, past Deputy Commissioner of Police Marvin Dames and other officers of the force.

Bringing remarks on behalf of Commissioner of Police Ellison Greenslade was Deputy Commissioner of Police Anthony Ferguson.

May his soul rest in peace.



---
SEE RECENT NEWS