Mr. Marvin Hanlon Dames, BSc
Deputy Commissioner of Police
---
Mr. Marvin Dames joined the Royal Bahamas Police Force on 1 March 1988.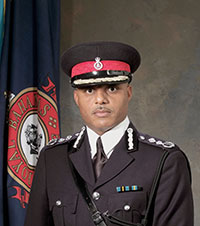 He has worked in areas of the Force that includes Crime Prevention and Community Relations Section, Carmichael Division, Operation Sweep,   Eleuthera District – Harbour Island, Complaints & Discipline Unit, Mobile Division, Western Division, Drug Enforcement Unit, Central Detective Unit, Air & Seaport Security and Assistant Commissioner – New Providence District
Mr. Dames holds a Bachelor of Arts Degree in Criminology from Ohio State University, Ohio, USA and a Post Graduate Certificate in Criminal Justice from the University of Leicester, United Kingdom.  Additionally he holds a Post Graduate Certificate in Police Management from the Institute of Legal Executives.
 He has also participated in a number of courses including:
Fellowship – Yale World Fellows, Yale University, New Haven, Connecticut
International Strategic Leadership programme (ISLP),  Bramshill, United Kingdom
FBI Academy
Senior Command Course, Bramshill, United Kingdom
In January 2008 he commenced a one year secondment at the Toronto Police Service in Toronto, Canada. Mr. Dames has received several honours throughout his career including The Police Force's Medal for Meritorious Service and the US Drug Enforcement Administration Administrator's Award.
Mr. Dames and his wife Stacey are the proud parents of one son.
Mr. Dames resigned from the Force on May 30th, 2011.