THE SENIOR EXECUTIVE LEADERSHIP TEAM (SELT)
The Royal Bahamas Police Force is guided by a Senior Executive Leadership Team which is led by the Commissioner of Police, Mr. Ellison Greenslade, who is supported by two Deputy Commissioner, one (1) Senior Assistant Commissioner, and ten (10) Assistant Commissioners.

The Team is responsible for setting the strategic objectives, policing plans, development and mobilization of the Police Force.

---
Mr. Ellison E. Greenslade, Dr.h.c., QPM, MBA
Commissioner of Police



The Commissioner is responsible for the command, superintendence, direction and control of the Force and is ex-officio Provost-Marshall (Police Act Section 6). All administrative and operational policies in the Force are approved by the Commissioner, in consultation with the Executive Management Team, and are issued to the Force through Force Standing Orders (FSO).
His areas of responsibility includes: Executive Assistant, Financial Services, Security & Intelligence Branch, Strategic Policy & Planning Branch, Legal Services, International Travel & Visits Branch , Force Chaplain, Communications & Technology Branch (Information Technology Department, Security and Intelligence Branch, Interpol, Communications Section), Public Affairs and Communications Office (PACO).
Click here to learn about Ellison Greenslade


---
Mr. Anthony James Ferguson, AA
Deputy Commissioner of Police- Police Headquarters, New Providence
Areas of responsibility include:


The Deputy Commissioner (Force Internal Inspector) deputizes in the absence of the Commissioner and has the following specific responsibilities: Disciplinary Tribunal, Complaints & Corruption Branch, Professional Standards Unit, Inspections and Review Branch, Force Internal Inspector and Chauffeur. Click here to learn about Anthony Ferguson
---
Mr. Emrick Seymour, AA, CIRM
Deputy Commissioner of Police, District Headquarters Grand Bahama and Northern Bahamas

Areas of responsibility include: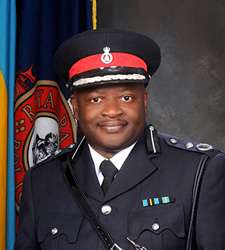 Northern Bahamas- Bimini, Abaco, Berry Islands
Airport Division, Central Division, Eastern Division, Eight Mile Rock Division, Lucaya Division, West End Division, Traffic Division, Complaints & Corruption Unit, Canteen, Financial Services Unit, Fire Services, Force Garage, Harbour Patrol, Human Resources Office, Maintenance Section, Mobile/Control Room, Prosecutions Department, Police Stores, Security & Intelligence Branch, Central Detective Unit, Drug Enforcement Unit, Police College, Crime Prevention Office, Reserves Division, Criminal Records Office, Communications Branch, Armoury, Reserves Office. Click here to learn about Emrick Seymour
---
Mr. Stephen Dean, MBA, BA, CM

Senior Assistant Commissioner- Community Policing & Urban Renewal
Areas of r

esponsibility include:
Centreville Urban Center, Police Band, Grants Town Urban Center, Bain Town Urban Center, Englerston East Urban Center, Englerston West Urban Center, Kemp Road Urban Center, Nassau Village Urban Center, Pinewood Urban Center, National Crime Prevention Office, Urban Renewal Bands, Police Youth Clubs, Summer Camps, Business Inspections & Licensing Section, Fire Services, Internal Security Division, K9, Prosecutions, Air Support Services Unit, Marine Support Services Unit, Force Garage, Police Band, Maintenance Section
Click here to learn about Stephen Dean
---
Mr. Elburt Ferguson
Assistant Commissioner of Police- Scientific Support Services
---
Mr. Theophilus Cunningham
Assistant Commissioner of Police- Disciplinary Tribunals
---
Mrs. Ismella Davis-Delancey
Assistant Commissioner of Police- Family Island District
---
Mr. Paul Rolle
Assistant Commissioner of Police- National Training
---
Mr. Ashton Greenslade
Assistant Commissioner of Police- Uniform Operations
---
Mr. Clayton Fernander
Assistant Commissioner of Police - Crime Investigations
---
Mr. Clarence Reckley
Assistant Commissioner of Police- Uniform & Operational Support, Grand Bahama
---
Mr. Leamond Deleveaux
Assistant Commissioner of Police- Corporate Management
---
Mr. Samuel Butler
Assistant Commissioner of Police- Drug Investigations
---
Mr. Kendall Strachan
Assistant Commissioner of Police- Operational Support