MR. STEPHEN DEAN, MBA
Senior Assistant Commissioner of Police
---
Mr Stephen Dean enlisted into the Royal Bahamas Police Force In February 20th 1981. He has worked in several areas of the force that includes the Central Division, Southern Division, Mobile Division (Grand Bahama District), Criminal Investigation Department (Grand Bahama District), Drug Enforcement Unit (Grand Bahama District), Mayaguana District (Officer-in-Charge), Cat Island District (Officer-in-Charge), Police Training College (Chief Classroom Instructor), the Farm Road Urban Renewal Project (Coordinator), Commander of the Southeastern Division, Director National Crime Prevention Office, Commander of the Central Division and the Co-Coordinator of the Urban Renewal 2.0 Division.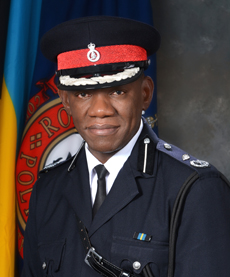 He obtained his early education at the Martin Town Primary School in Eight Mile Rock, Grand Bahama. He received his high school education at the Freeport High School (Bishop Michael Eldon Anglican High School) in Freeport, Grand Bahama.
He became a Certified Manager (CM) in 2000 after completing James Madison University Certified Managers Program through the College of the Bahamas. He received certification as a Law Enforcement Ethics Trainer from the International Institute of Ethics Trainers, USA in 2001 and he holds a Bachelor's of Arts Degree in Business Management from Omega College in conjunction with St Thomas University, USA. He is presently the holder of a Master's Degree in Business Management.
He has participated in a number of courses including:
Executive Management Course, Northwestern University, Evanston, Illinois 
United States International Visitor Leadership Program, USA
ILEA Advanced Management Course, Roswell, New Mexico
Junior Command Course, Jamaica Staff College, Jamaica
Domestic Violence Trainer Certification Course, University of South Florida
Ethics Instructor Certification Course - National Institute of Ethics, Georgia
Drug Enforcement Course, Regional Drug Enforcement Training Center, Jamaica
Domestic Violence Train the Trainers Course - UWI, Jamaica
Interpol Regional Training Course - San Juan, Puerto Rico
Basic Forensic Science Course, Institute of Applied Science, New York
US Department of Justice (DEA) Drug Enforcement Training Course
H. M. Customs and Excise Overseas Drug Enforcement Training Course
He is a member of the Rotary Club of Nassau, National Institute of Ethics Trainers, International Society of Crime Prevention Practitioners (ISCPP), the International Association of Chiefs of Police (Community Policing Committee) a member of Northwestern University Center for Public Safety Alumni Association, a lecturer at the Bahamas Public Service Training Center and a member of the Church of God of Prophecy, Meadow Street.
He is the recipient of numerous awards, which includes the Royal Bahamas Police Long Service and Good Conduct Award, Ministry of Education Community Service Award, Bahamas Faith Ministries Community Service Award, the Salvation Army Community Service Award, the Commissioner of Police Commendation and the Rotary Club Paul Harris Award.
He and his wife are the proud parents of two children
---
Mr. Stephen Dean
Community Policing
Police Headquarters
stephen.dean@rbpf.bs